High intensity LED motorcycle driving lights, brake lights & turn signals by Weiser for current & classic bikes.
Whether you're riding on the open road or navigating city streets, high performance LED light upgrades make your journey a whole lot safer.
Light Finder
Play Video
WATCH VIDEO
Choose the Right Lights for your Bike
Powerful LED light upgrades are available for all types of makes and models.
Use the Light Finder to choose the right LEDs.
FREE USA Shipping
Fast, tracked worldwide shipping also available
4 Year Warranty
48 month warranty on all Weiser LED lighting products
60 Day Guarantee
Money back guarantee on all LED lighting products
High-Quality Manufacturing
All products designed and manufactured in the USA or UK
Up to 10x Brighter than stock OEMs
Improve your safety in all weather conditions with powerful LED lights that get you seen, last longer and are brighter and stronger.
Improve Safety Without Changing Aesthetics
Multifunction LED upgrades that won't change the overall look of your bike. Available as inserts to fit your original housing or as complete kits with housings. 
Easy to install Multifunctional LED Lights
From simple turn signal kits to multifunctional upgrades that include turn signals, brake lights and running lights, all Weiser LEDs are easy to install. 
Powered by the Latest Technology
Automotive industry-leading OSRAM high performance LEDs that are not affected by heat or cold and are less susceptible to vibration and failure than OEMs.
The Most Vibrant, High Intensity Multifunction LED Lights on the Market
Be seen by road users and pedestrians, with powerful LED lights that increase illumination around the front, rear and side of your bike.
Triple Function Turn Signals, Brake Lights and Running Lights
Upgrade your rear turn signals with 12 ultra amber LED lights combined with an additional 12 intense red LED running lights, which become extra intense red LED lights when braking.Find out more
Single Function Turn Signals
Upgrade your turn signals to our brighter, easy installation single function LED panels. Available to fit your existing or new turn signal housings.Find out more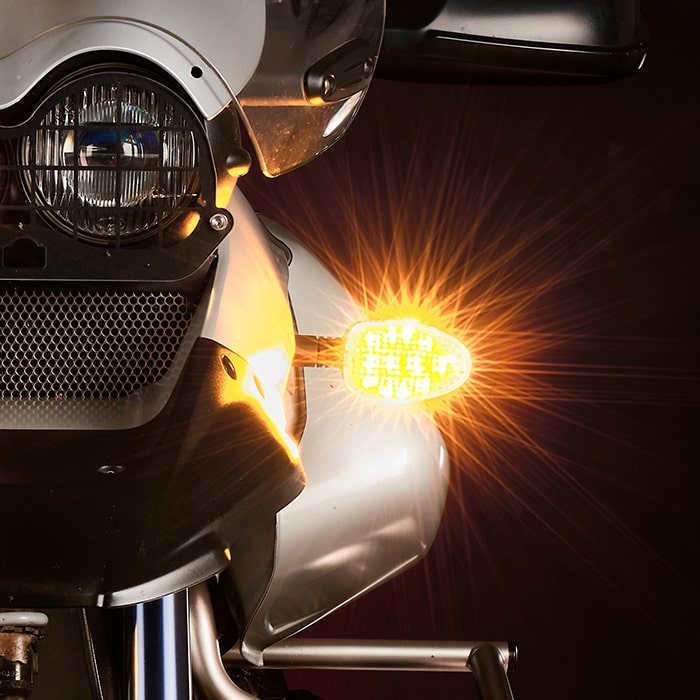 Dual Function Turn Signals and Driving Lights
Upgrade your turn signals to our brighter, easy installation single function LED panels. Available to fit your existing or new turn signal housings.Find out more
Single Function Turn Signals
Upgrade your turn signals to our brighter, easy installation single function LED panels. Available to fit your existing or new turn signal housings.Find out more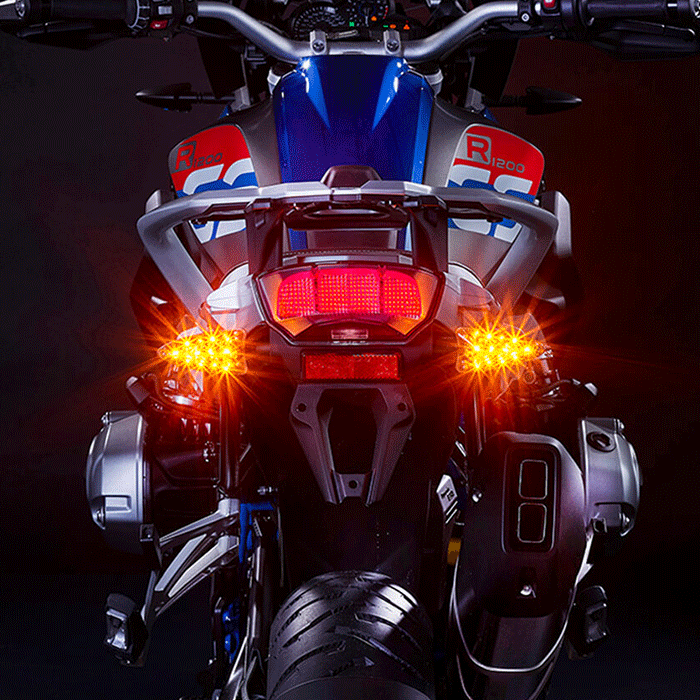 Triple Function Turn Signals, Brake Lights and Running Lights
Upgrade your rear turn signals with 12 ultra amber LED lights combined with an additional 12 intense red LED running lights, which become extra intense red LED lights when braking.Find out more
Single Function Turn Signals
Upgrade your turn signals to our brighter, easy installation single function LED panels. Available to fit your existing or new turn signal housings.Find out more<
All the latest news about products, innovations, technology and rides