24
Automotive Approved LEDs
Rounder shape LED lights designed specifically for earlier BMW models from 1994 – 2004: R and K series.
Light Finder
Shown On 2004 BMW R1200 GSA
Every Weiser LED panel combines innovative and robust electronic circuit board design and industry-leading OSRAM LED technology.
Single Function Turn Signals
For a safer riding experience, upgrade your turn signals with 12 high intensity ultra amber LED lights and increase visibility when you turn.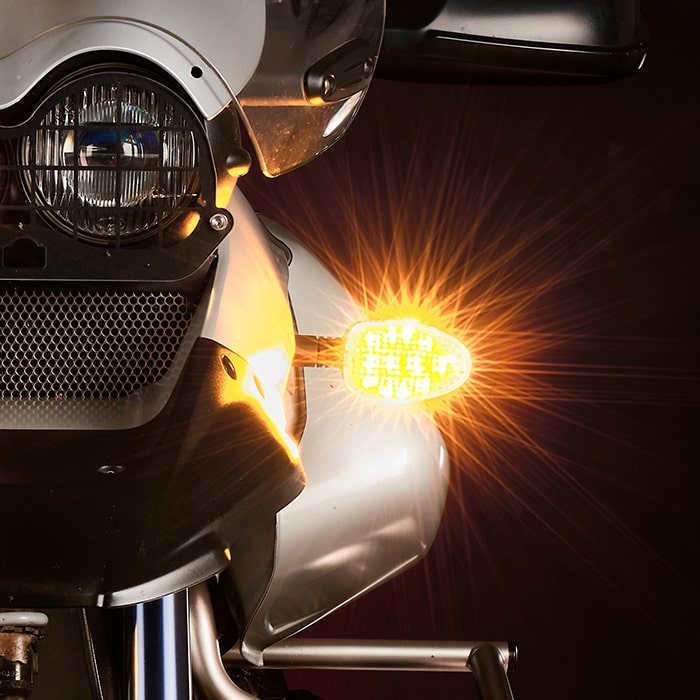 Dual Function Turn Signals and Driving Lights
Upgrade your turn signals with 12 ultra amber LED lights, combined with an additional 12 bright white LED driving lights within the same housing for impressive day or nighttime illumination.
Triple Function Turn Signals, Brake Lights and Running Lights
Upgrade your rear turn signals with 12 ultra amber LED lights combined with an additional 12 intense red LED running lights, which become extra intense red LED lights when braking.
The Brightest Multifunction LED lights on Market
Give your classic BMW a powerful lighting upgrade with Weiser LEGACY 2 EVO LED lights - without changing the original aesthetic of your bike - and ramp up the safety factor during directional and braking maneuvers.
LEGACY 2 EVO kits are powered by OSRAM, the most trusted name in automotive industry LED lighting and are the brightest single function and multifunction lights you can buy. Plus, Weiser are the only manufacturers worldwide to produce multifunction LEDs for classic BMWs.
Ride with confidence, whatever the weather, whatever the conditions, safe in the knowledge your classic BMW is more visible to road users and pedestrians.
Powerful LED lights that are up to 10x Brighter than OEMs.
Detailed instructions with every kit for a stress-free installation.
Improve Safety Without Changing Aesthetics
LED upgrades that use your original housing.
Multifunctional LED Lights
From simple turn signal to triple function upgrades.
Weiser LEGACY 2 EVO LED panels are designed to fit straight into your bikes existing OEM housings. There's no need to modify the existing wiring. Just simply replace the original OEM lights with the newLED panel. If you're installing multifunction lights all additional wiring is supplied with the kit.

Weiser LED panels are designed to mimic the 21watt bulb they replace. They will not cause any bulb failure warnings. They comply with current automotive electronics safety standards and work with your bike's existing electronics.
This makes LEGACY 2 EVO LED lights extremely quick and easy to install. Single function turn signals should take no more than about 10 minutes per signal. Dual function and triple function products take 1 – 2 hours depending on your understanding of your bike electronics, and whether you're installing only the front or rear lights, or both. All kits are sent out with all the components labelled along with wiring instructions and a circuit diagram.
Watch Video
View Install Guides
What Other Riders are Saying About Weiser LED Lights
"You get what you pay for. And in Weiser's case, they're worth the money. We really liked the Weiser LEDs. Adding additional lighting and increasing conspicuity in today's inattentive driver, cell phone environment can only be a good thing."

Mike Botan

Adventure Rider
The tools required depend upon the product being installed. The turn signals require only a Phillips screwdriver. Please refer to the installation instructions for the 2-in-1 products.
No. The Weiser Ultrabrights are designed to work whether or not your bike has a CAN bus system. Although they work on a lower current than standard bulbs, they will not show a bulb failure warning on the dash.
Installation should take no more than five minutes per signal. This is for the turn signal ONLY. The 2-in-1 products take 1-2 hours depending on experience with electrical systems, and whether you are installing only the front or rear lights, or both.
If we still haven't answered your question, you can contact us below and we will get back to you as soon as possible. Make sure to check our full list of FAQs before making contact, as we may have already answered your question.
View All FAQs
Choose the Right Lights for your Bike
Powerful LED light upgrades are available for all types of makes and models. Use the Light Finder to choose the right LEDs.